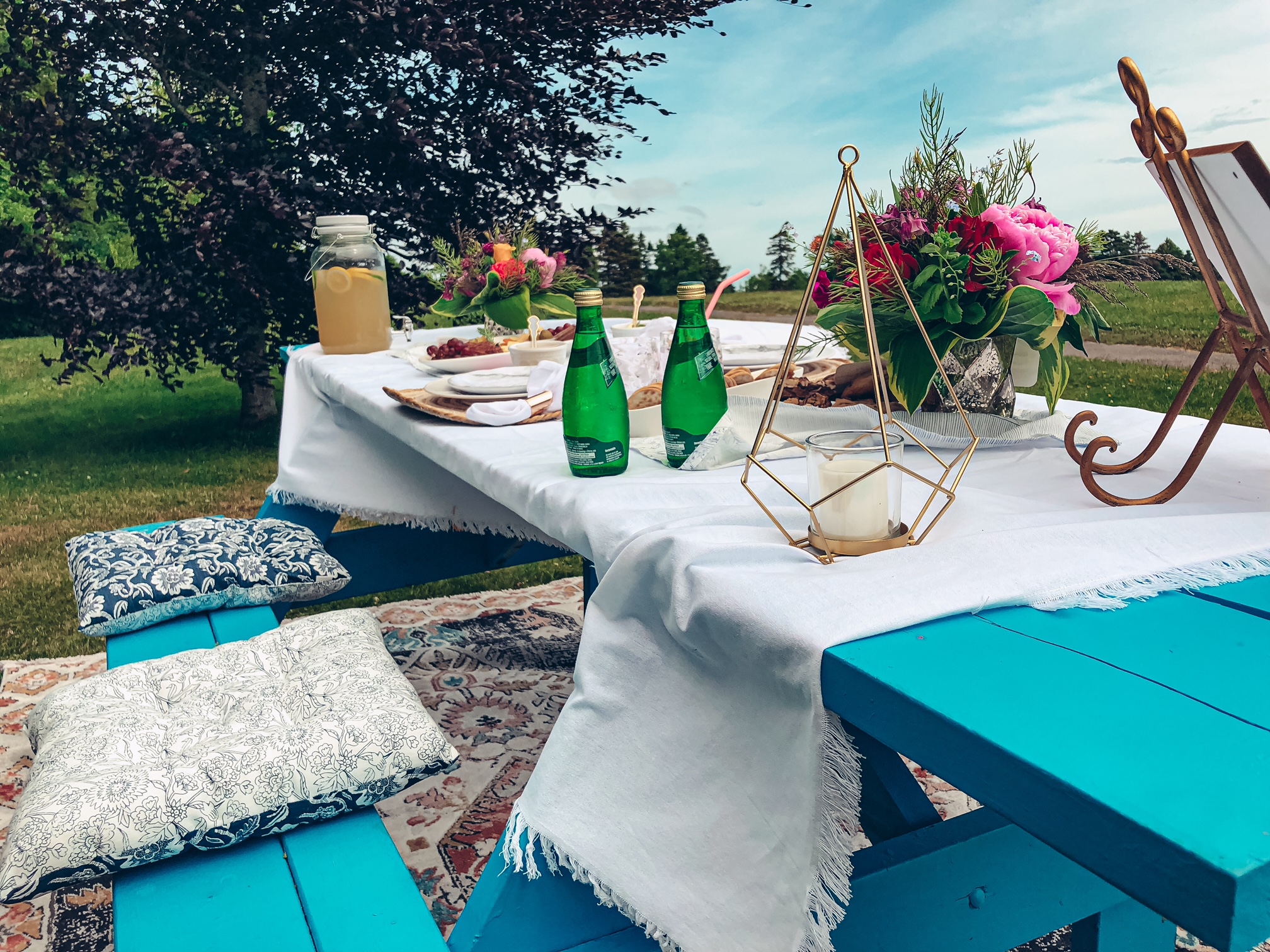 Today my husband and I headed to Bowring Park to have a romantic picnic lunch date hosted by an awesome new local business called Newfound Picnics (which is owned by a very nice couple named Heather and Josh). A few months back, Heather reached out to me asking for some ideas for accessible picnic locations in the St. John's area. She told me that making her business accessible was very important to her, as she also lives with a disability and wants to ensure everyone is able to enjoy the experience. Side note: I am thrilled to be able to write about a cool local business that is owned by a woman with a disability! 
So when it came time to launch their new luxury picnic business, Heather messaged me on instagram and kindly offered to host myself and my husband for a complimentary picnic. We were their first official picnic guests, and they wanted to get any feedback on accessibility to make sure they have thought about everything that would make the experience relaxing and fun for mobility aid users.
There are lots of different locations and picnic types to choose from, and they can even come to your own backyard which may be easier for some folks in terms of accessibility. For our luxury picnic, we decided on Bowring Park for the location. While planning the event, Heather asked us for any of our dietary restrictions so she could work with Fig & Fromage and Gingerly vegan bakery on the charcuterie and dessert options. I let her know my very interesting and extensive list of dietary restrictions, and together they ensured that there would be plenty of food that would be great for me and also my husband. When confirming location details with me on Friday, they let me know that they picked a location that was near accessible parking, had curb cuts, a paved pathway leading to it, and a nearby accessible bathroom. I absolutely loved being given this information up front so I didn't have to ask for it.
When we showed up at lunch time we were so amazed by the set up. They had taken an accessible picnic table that was just off a paved trail and completely transformed it. There was a gorgeous rug underneath it, cushions on the bench, a linen tablecloth with a beautiful table runner, bouquets of flowers from Newfoundland Floral Design, and the loveliest table setting. They were wearing masks and stayed long enough to greet us and tell us about all of the food and drinks on the table, and then headed out to leave us to our romantic lunch.
The food was delicious! We had a charcuterie platter from Figs & Fromage that included vegan cheese, some meats, assorted fruit, crackers and spreads. And we had a plate of amazing Gingerly vegan desserts. The Gingerly s'mores cookie is my favourite cookie in existence, so I was very excited to see some of them on the table! We also had a pitcher of lemonade and some Perrier water. One nice touch that I really appreciated was a cute pink straw waiting for me in my glass, because Heather wasn't sure if I'd be able to grip my glass today. Another touch that made me realize how important my access needs were was the inclusion of a second cushion on the bench side of the picnic table that Heather said was there just in case I had my leg braces and wanted to transfer to the bench for my meal. It was really nice to be given the option to choose how I would be most comfortable (I don't get that choice very often so its noticeable whenever it's presented to me).
When our meal was complete, Heather and Josh headed back to our picnic spot to box up our leftovers for us and even gave us one of the flower bouquets to take home. It was such a wonderful, delicious, relaxing experience. We didn't have to put in any effort, just showed up and were treated so special. My husband and I had a really great time and both agreed that it was one of the most accessible experiences we've had since I started using a wheelchair.
I think a luxury picnic is such an amazing idea for a special occasion and I'm so glad to see this new business addition in St. John's. Thank you so much to Heather and Josh for hosting us today and for making our experience accessible and stress-free.
5 stars, would picnic again!