Last summer I headed to Twillingate for a little staycation. I was invited by the owner of Twillingate & Beyond to stay in their gorgeous, wheelchair-friendly Drift Away Suite. I had such a wonderful, comfortable two night stay and was able to provide the owners with some accessibility feedback so they could make some small changes to enhance the experience for other wheelchair users. I call this suite wheelchair-friendly because it met most of my access needs as a wheelchair user, but I did recognize some barriers that might exist for other wheelchair users.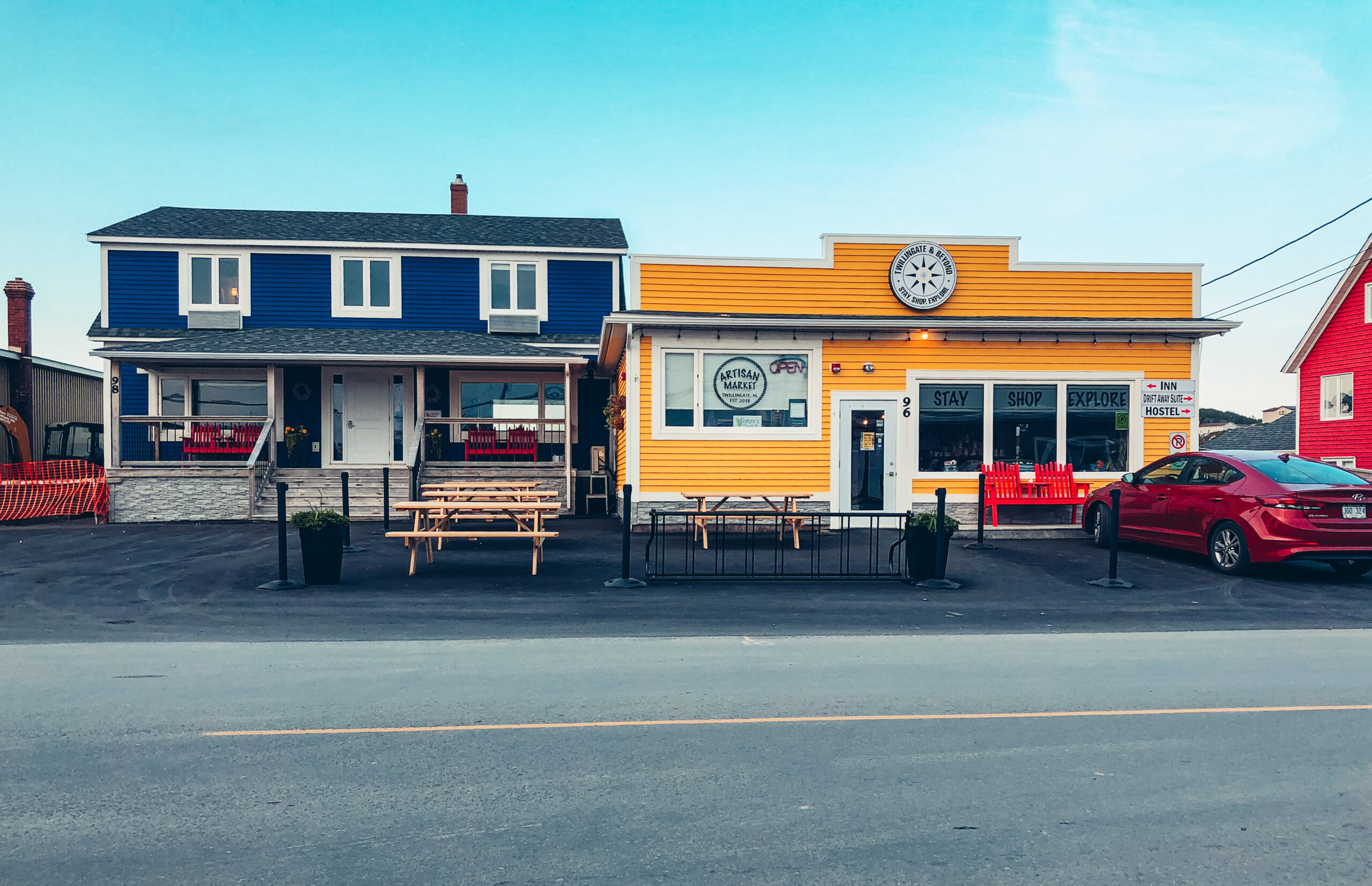 The suite was nestled in the back of this beautiful yellow building in the hub of downtown Twillingate. The front of the building also houses an Artisan Market owned by Twillingate & Beyond, which sells some delicious food and beverages along with a bunch of other items like decor and jewelry. You can grab a snack or coffee there and sit out front at their wheelchair accessible picnic table to enjoy it. We had an accessible parking spot at the front of the market, right next to a wheelchair ramp that led to a wrap around deck for our suite. The door to the suite is quite heavy so I had to get my husband or friend to open it for me when we were going in and out.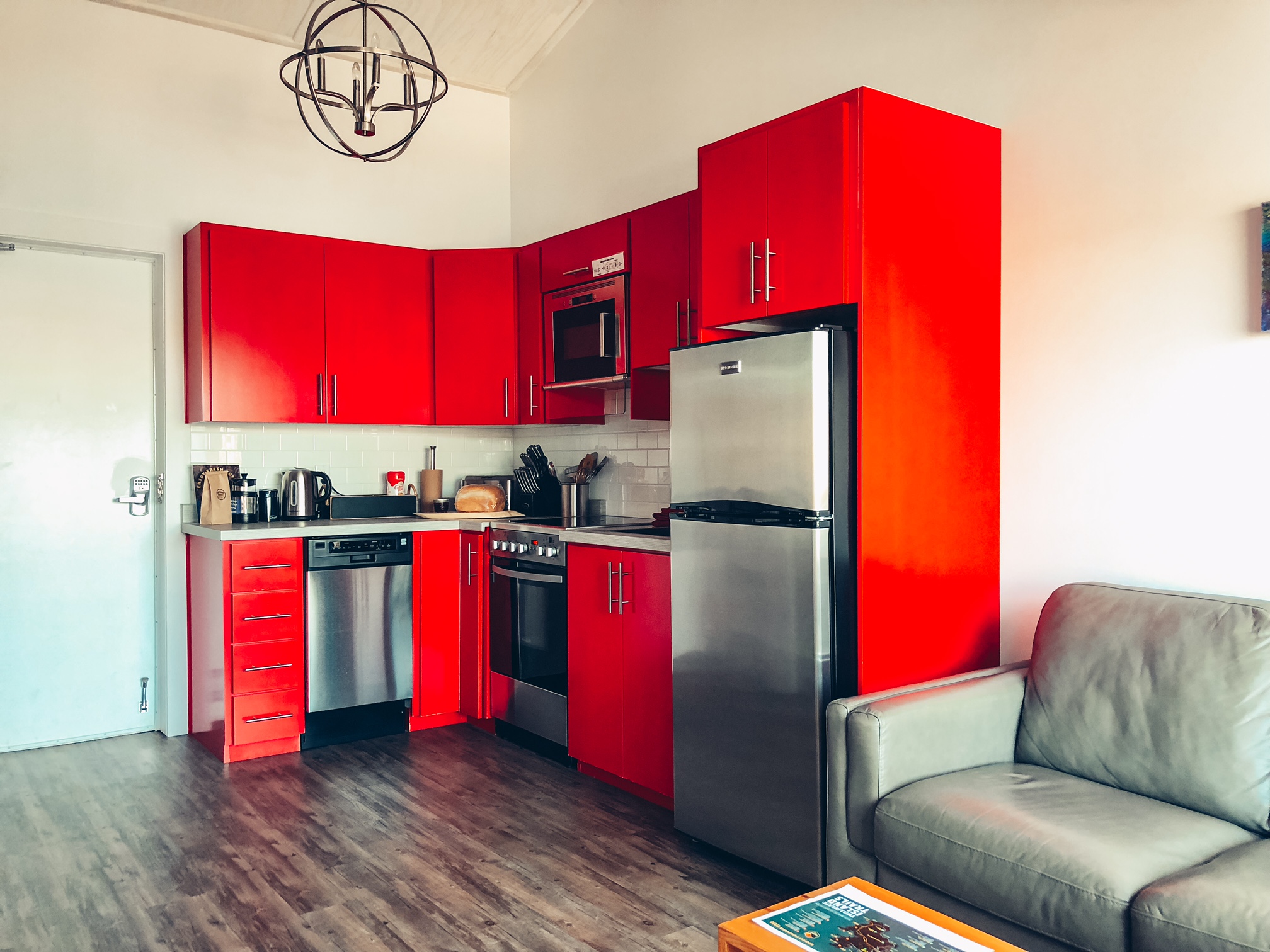 Once inside, you're in an open concept room with an eating area, a living room, and a self-catering kitchen. The kitchen is so beautiful but it isn't really built for a wheelchair user. I could reach things like the stove and the freezer, but the microwave was up too high and the sink didn't have a space to roll under which made doing dishes a little tricky. On the other side of the kitchen there is a ladder that leads to a cute loft bedroom area and next to that ladder is the bathroom. The bathroom is quite large with lots of space to move around in a wheelchair, a roll-under sink with a mirror that can be tilted depending on your height, a toilet with grab bars around it, and a shower with a built-in bench and a height adjustable shower head. At the front of the suite there is also a gorgeous main floor bedroom with a queen sized bed and jacuzzi. In the bedroom there is a clothing rack at a great height for wheelchair users, but I think it would be a tight squeeze to get around the bed in a wheelchair bigger than my standard sized one. The jacuzzi is not wheelchair accessible and could be difficult for someone with limited mobility to get in and out from.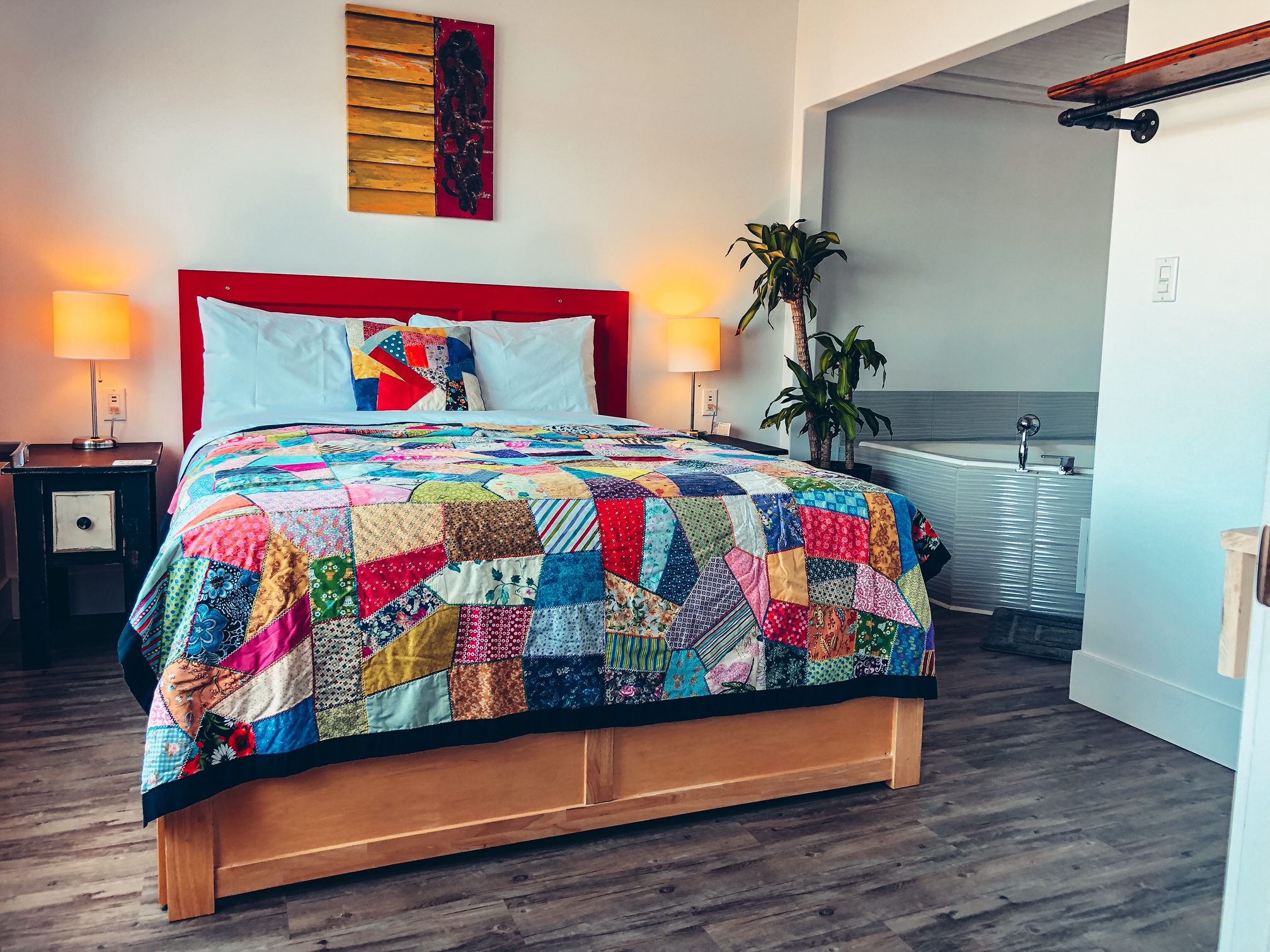 I personally found it incredibly easy and relaxing to stay in the Drift Away Suite. I didn't really need help with anything other than the front door and getting into the jacuzzi. But my access needs aren't universal access needs, so I did obviously recognize some improvements that could be made. And that's one of the reasons I was staying there, after all. The owner of Twillingate & Beyond seems really excited about providing an accessible destination for tourists and wants to ensure that her spaces are as accessible as possible. So she was very receptive to my feedback and seems eager to work on improving the accessibility of the space.
I really love seeing hospitality and tourism operators embracing accessibility and being passionate about improving accessible tourism in our province.
Thanks for having me, Twillingate & Beyond. It was such a relaxing, beautiful place to spend a staycation. I hope to return in the future!
Scroll down for more photos!