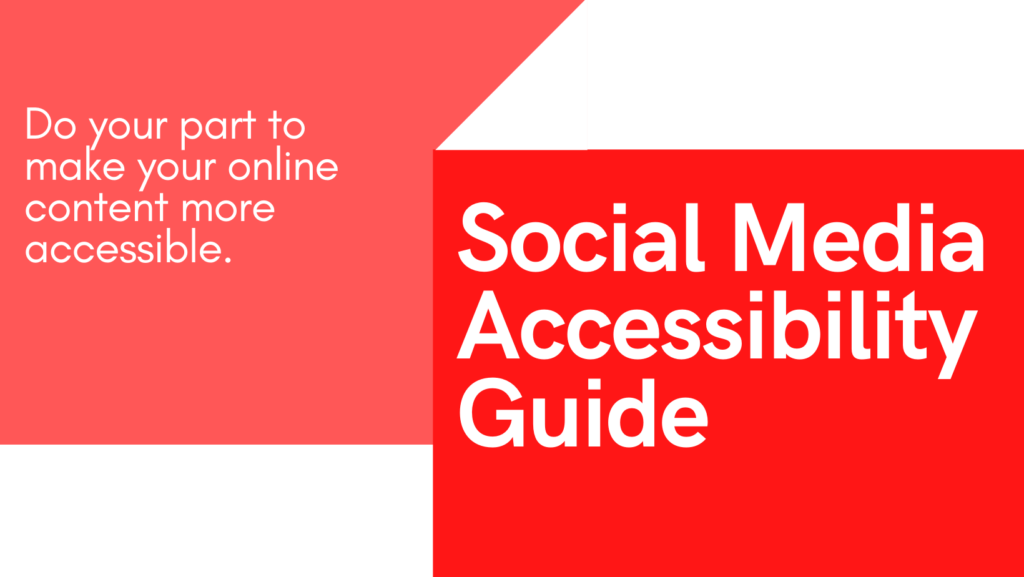 1. IMAGE DESCRIPTIONS
Whenever you post a photo to Twitter, Facebook, and Instagram you can add image descriptions so those who are blind or have low vision can be a part of the full conversation. There are 2 ways to do this for each social media platform.
Facebook:
1. At the end of the actual post that you are drafting you should make a space and then write out a full image description. This is beneficial to people with low vision that do not use screen readers. Your description would look something like this:
Image Description: This is where you describe what is happening in the photo, be detailed but don't make it incredibly long.
2. You should add an embedded image description to each photo. This is the text that will be read by screen readers. To do this you follow these steps:
On a computer:
–  Upload a photo
–  Click to edit the photo
– A window will pop up and on the left side you will see an option called "ALT TEXT"
– Click "override automatically generated alternative text" and then write your own image description in the box provided.
– Save photo
On a mobile device:
– Upload the photo normally
– Go into the photo and click the ellipsis up top.
– A menu of options will appear. Click on "Edit alt text"
– Click "override automatically generated alt text"
– Write description
– Save
Instagram:
1. At the end of the text you post to accompany your Instagram photo you can make a space and then write out a full image description. It will look the same as the example for Facebook:
Image Description: This is where you describe what is happening in the photo, be detailed but try not to make it way too long.
Feel free to check out my instagram or Facebook pages @AccessYYT to see how I add image descriptions if you need some examples. I would also recommend following @HabenGirma who is a deaf-blind lawyer who provides great image descriptions.
If there isn't room to add this to your main post, you can add it as a comment right after you publish your post.
2. Before uploading the photo you can click on "Advanced Settings" at the bottom of the screen underneath Tag People, Add Location etc. Once you click on that you will see at the bottom an option that says "Accessibility – Write alt text." Click on that and write your alt text. You do not need to include the words "Image description" at the beginning.
Twitter:

Twitter is a little different because you don't have a lot of characters to work with. You can ensure that embedded descriptions for screen readers are added to each image in a tweet, and add another tweet underneath with image descriptions for those without screen readers.
Whenever you are composing a tweet with an image in it, follow these steps:
–   Add the image to the tweet
– In the bottom right corner of the image in the draft you will see "+ALT"
– Click on that and write out your description where it says "Describe this photo…"
– Click "done" and continue with publishing your tweet
– Now add another tweet underneath with an image description much like you would write for instagram or Facebook (can be added to original tweet if there are enough characters)
GIFS:
Just like you would for images you add to twitter, you can also add alt-text to any gifs you use on twitter!
2. CLOSED CAPTIONING

It's important to ensure there is closed captioning for any video content that may be uploaded. This isn't only beneficial to deaf or hard of hearing people, it is also beneficial to anyone who is watching a video on their mobile because so many people do that without sound on these days. Your video is much more likely to be watched if someone is looking at it in public and doesn't want the sound on but can just read along with CC (closed-captioning).

One important thing to note about CC is that you should try very hard to make sure the captions correctly reflect what is being said in the video. Don't be choosy about what you include and what you don't. Write it word for word.
Facebook:
The easiest way to add closed captioning to videos on Facebook is to click the link below and follow the steps listed. There are visuals to help. https://www.oktopost.com/blog/enhance-your-videos-with-facebooks-automatic-caption-generator/ 
I highly recommend reading through the captions that Facebook generates to ensure they are correct.

Instagram:
For videos that will be uploaded to Instagram or IGTV:

The easiest way to learn how to add automatic captions on Instagram is to click the link below and follow the steps:
https://later.com/blog/igtv-captions/
For Instagram Stories:
If you are posting videos in your instagram stories you can either use an app like CLIPOMATIC or something similar in which you film your video in the app and it will generate the captions as you speak. You can go in and change any words that aren't correct. Then you could upload those videos into your Stories.
Or you can film directly in Instagram Stories and just use the text option to type out what you are saying in each story. It takes a little extra time but is absolutely worth it because Instagram stories are seen by so many people and can be so inaccessible. I personally skip through every Instagram story that isn't captioned. So for each story containing video, watch that small clip and type out what is being said or any important audio cues (like maybe a certain song is playing). It would be good to do this in an easy to read font that can have a solid coloured background added to it so it can stand out in the story.
Apps you can use (there are more, this is a short list):
– Clipomatic
– Threads
– Captions
– MixCaptions
**If there is a video of something like a debate that you are uploading to a campaign Facebook Page I would recommend following the earlier steps for Facebook videos.
Twitter:
My best suggestion for twitter would be to share videos created in Clipomatic or a similar closed-captioning app.
3. USE CAMELCASE FOR HASTHAGS
Something that really helps make your social media posts more accessible is to capitalize the first letter in each word found within a hashtag. The reasoning behind this is that it's both easier to be read by those with low vision or certain learning disabilities like dyslexia, and also because it makes it easier to be read by a screenreader. So if you're creating posts for your business or event that include a few hashtags don't write them like this #SHOPLOCAL or like this #shoplocal
Instead write them like this: #ShopLocal #DowntownStJohns
4. USE EMOJIS SPARINGLY 
Every emoji you add to a post will be read out loud by a Screenreader. So for every
it will say "happy face." That can get old fast if you are doing a bunch in a row or have a lot of them littered throughout your post.
5. AVOID ABLEIST LANGUAGE
Don't use words that negatively impact the disability community. Stay clear of words like: handicap, stupid, crazy, dumb, insane, lame. Any time you would use the word "handicap" replace it with "accessible" instead. Also do not use euphemisms for disability. It's okay to use the word "disability" or "disabled." Avoid using words like "differently abled." You can use the term "people with disabilities" instead of "disabled people" if you would like. A lot of us prefer identity-first instead of person-first but we will generally not be offended by you choosing person-first like we would if you use a euphemism like "differently abled."
Also, if you're ever speaking about disability, pay close attention to how you're framing that discussion. Disabled people do not exist to be inspiration for non-disabled people. Don't discuss us doing normal things as if that is extraordinary. It is patronizing to read something like "Lisa wrote this document DESPITE being disabled." Just stay clear of talking about disability as if it is negative. The negative things about disability exist around accessibility and the lack of it in our communities.
IMPORTANT NOTES:
*Whenever a post on social media includes an infographic or a poster for an event with detailed information on it, always include all of the text from that graphic in the body of your post.
*If you are creating a Facebook event, make sure to include detailed accessibility information in an easy to find location for the event (generally in an About section). Even if the event is being held somewhere inaccessible, make sure to let everyone know that it isn't accessible. If it is accessible or partially accessible, include details about what makes it accessible (everyone has different access needs so it's important that people with all different types of disabilities can know up front if their needs would be met).
Random example: This event is being held on the first floor of (Insert Place Name) and there is one step up into the building. Once inside, everything will take place on one level and the room is open concept with lots of space to move around. There will be chairs available for anyone who needs to sit. The bathroom is located on the main floor but is not large enough to accommodate a wheelchair. There will be an ASL interpreter present.
*Do not use special fonts for any of your social media posts because those fonts cannot be read by a screenreader. Stick with default.
SOCIAL MEDIA ACCESSIBILITY CHECKLIST
Before you hit "publish" on that Facebook post, tweet, or instagram post, double check that you have done the following:
❏ If there's a photo involved, did I add image descriptions and alt text?
❏ If there's a video involved, did I close caption it?
❏ If I'm using hashtags, did I make sure to write them in CamelCase?
❏ Did I use emojis sparingly?
❏ Did I avoid using ableist language?
❏ If I am sharing an event, did I include accessibility information?
If you would like to add any tips or link to any resources that provide further information about online accessibility please do so in the comments!